Sukkot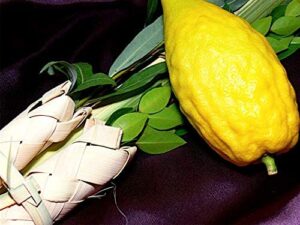 Celebrate Sukkot in the Goldman Sukkah
Spaces are VERY limited!
Reserve your spot by Monday, September 2o!
Friday, September 24
Sukkot Evening Minyan Service at 6:00 PM followed by
Dinner in the Goldman Sukkah at 6:45 pm
Menu: 
Bone-In Paprika Chicken with White Wine & Thyme Sauce
(Pre-ordered Gluten Free & Vegetarian Option: Grilled Tofu with a White Wine & Thyme Sauce)
Herb Fettuccini with Fresh Spinach and Roasted Tomatoes. Sauteed Squash, Zucchini, Carrots & Green Beans.
Pear and Apple Crisp with a Cinnamon Brown Sugar Streusel
Kids Meal: 2 Chicken Drumsticks, Herb Fettuccini, Green Beans
Cost : $22 per adult, $12 per child (age 4-12)
0-3 no charge
RSVP by Tuesday, September 14, 2021
Click here to register for dinner.
No refunds for cancellations. 
---
We are excited to have our youth back in the building for Sukkot. 
Please click this link to RSVP for our Outdoor Family Programs.
Sh'mini Atzeret & Simhat Torah Youth Programming RSVP Form
Youth and Family Services on Sh'mini Atzeret does not need an RSVP.
---
Sukkot Services Schedule
All services are in-person and virtual, except where otherwise noted.
| | |
| --- | --- |
| | |
| Monday, September 20 – Erev Sukkot | |
7:10 AM – Morning Minyan – Click Here to Join
6:00 PM – Min

h

ah/Ma'ariv –  Sanctuary & Live Stream
6:45 PM – Congregational Dinner in the Sukkah
7:07 PM – Candle Lighting
Tuesday, September 21 – Sukkot Day 1
9:00 AM – Sukkot Morning Service – Sanctuary & Live Stream
10:30 AM – Sukkot Outdoor Family Program (in-person only)
7:00 PM – Min

h

ah followed by study session and Ma'ariv – Sanctuary & Live Stream
7:59 PM – Candle Lighting
Wednesday, September 22 – Sukkot Day 2
9:00 AM – Sukkot Morning Service – Sanctuary &

Live Stream

10:30 AM – Sukkot Youth & Family Services (in-person only)
7:00 PM – Min

h

ah followed by study session and Ma'ariv – Sanctuary & Live Stream
7:58 PM – Havdalah
Friday, September 24
7:10 AM – Morning Minyan – Click Here to Join
6:00 PM – Shabbat Sukkot Evening Service – Virtual Only – Click here to join
6:45 PM – Congregational Dinner in the Sukkah
7:02 PM – Candle Lighting
Saturday, September 25
9:00 AM – Shabbat Morning Service – Sanctuary & Live Stream
10:30 AM – Sukkot Outdoor Family Program (in-person only)
7:00 PM – Min

h

ah, Learning, Ma'ariv & Havdalah – Virtual Only – Click here to join
7:55 PM – Shabbat Ends
Monday, September 27 – Hoshanah Rabbah/Erev Sh'mini Atzeret
6:45 AM – Hoshanah Rabbah Service – Sanctuary and Click Here to Join
6:00 PM – Min

h

ah/Ma'ariv – Sanctuary & Live Stream
6:58 PM – Candle Lighting
Tuesday, September 28 – Sh'mini Atzeret/Erev Simhat Torah
9:00 AM – Sh'mini Atzeret Service with Yizkor – Sanctuary & Live Stream
10:30 AM – Sh'mini Atzeret Youth & Family Services (in-person only)
5:45 PM – Young Family Sim

h

at Torah Celebration (in-person only)
6:15 PM – Min

h

ah – Sanctuary & Live Stream
6:30 PM – Congregational Dancing in the Dark Sim

h

at Torah Dinner followed by Ma'ariv and Sim

h

at Torah  Service – Sanctuary & Live Stream
7:50 PM – Candle Lighting
Wednesday, September 29 – Sim

h

at Torah
9:00 AM – Sim

h

at Torah Morning Service – Sanctuary & Live Stream
9:30 AM – Sim

h

at Torah Outdoor Family Program (in-person only)
6:45 PM – Minhah followed by study session and Ma'ariv – Sanctuary & Live Stream
7:49 PM – Yom Tov Ends