Saturday, June 4: Erev Shavu'ot

7:15 pm – Minhah Followed by Seudah Shlisheet

9:00 pm – Festival Ma'ariv
9:30 pm – Tikkun Leil Shavu'ot Program
Join the Center Clergy for a SUPER-lative Shavu'ot Evening at the Jacksonville Jewish Center!
Learn about the Supernatural with Rabbi Jonathan Lubliner, Superstars with Rabbi Shira Rosenblum, and Superheroes with Hazzan Jesse Holzer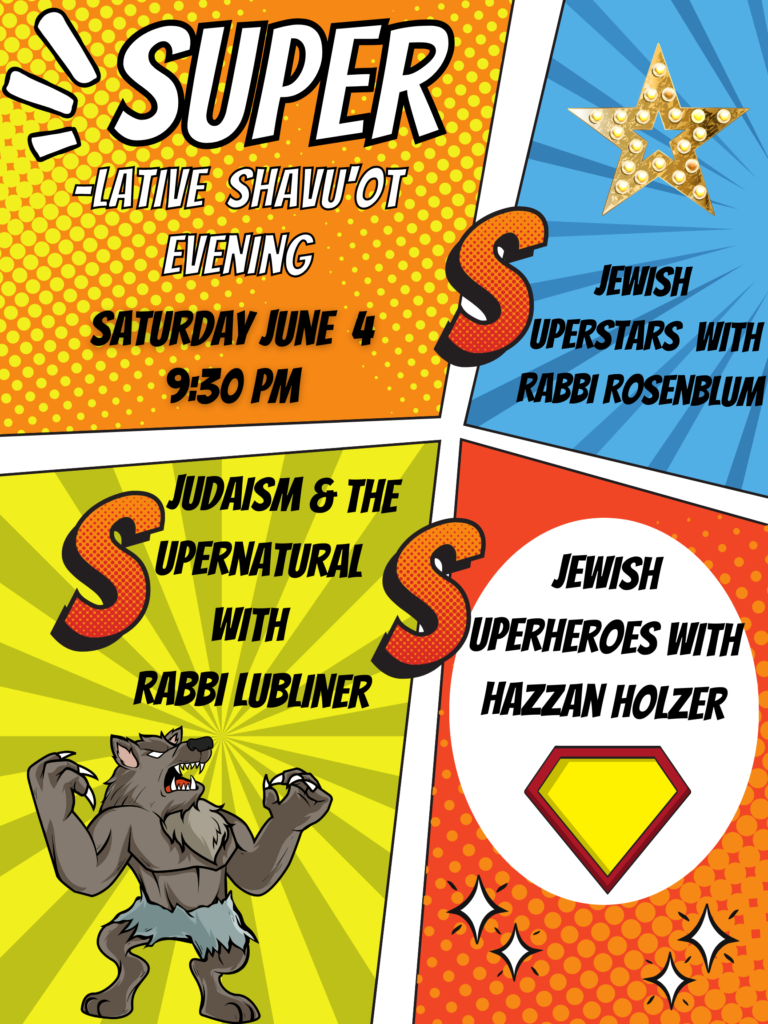 Sunday, June 5: Shavu'ot (Day 1)
9:00 am – Festival Morning Service Followed by Kiddush and Ice Cream.  
– Honoring the graduates of the Foundations of Judaism Course.
10:30 am – Shavu'ot in the Park
5:30 pm – "Cooking with the Clergy"
(CLICK HERE to RSVP for "Cooking with the Clergy" Join us for a Shavu'ot cooking experience where we will be making homemade pasta, garlic bread, and salad! Youth 12 years or younger must be accompanied by an adult. Please note, that only those who RSVP will be able to attend the cooking experience.)
8:00 pm – Minhah Followed by Study Session and Ma'ariv
9:06 pm – Candle lighting