Summer Music Showcase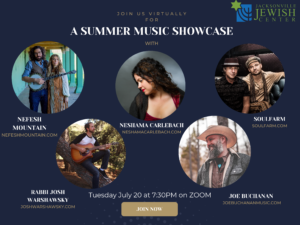 Tuesday, July 20th at 7:30 p.m. on Zoom:
CLICK HERE TO JOIN ZOOM MEETING 
Performances by:
Since their arrival on the scene in 2015, Nefesh Mountain has been hailed as one of today's formative boundary-pushing Bluegrass/Americana bands. They're among the first to truly give voice and openly represent Jewish American culture, tradition, values, and spirituality in the world of American roots music.
Featuring:  multi-award-winning singer, songwriter, and author Doni Zasloff. Award-winning multi-instrumentalist, composer, and cultural innovator Eric Lindberg. Award-winning viola and violinist Alan Grubner. The National Mandolin Contest, Telluride Bluegrass Band Contest, Rockygrass Mandolin Contest, and Utah State Mandolin Contest winner David Goldenberg. Critically acclaimed bassist and composer, Max Johnson.
Rabbi Josh Warshawsky is a pray-er, gatherer, music creator, and lifelong meaning seeker. He is a nationally touring Jewish musician, song leader, composer, and teacher of the Torah. Josh seeks to build intentional praying communities and travels to synagogues and Jewish communities across the country sharing his music and teachings on prayer. He has released three albums of Jewish music, filled with melodies written intentionally to express the deep meaning of the words of our tradition. His newest album, "Chaverai Nevarech," was a live album released in November 2018 along with a video series and teachings and is available anywhere you find your music.
Neshama Carlebach is an award-winning singer, songwriter, and educator who has performed and taught in cities around the world. A winner and four-time Independent Music Awards Nominee for her most current release, Believe, Neshama has sold over one million records, making her one of today's best-selling Jewish artists in the world. Neshama has been a cornerstone of major Jewish music festivals across the U.S. and globally, performing in front of thousands at countless concerts and gatherings for audiences of all ages and backgrounds. As a teenager, she performed alongside her father, the late Rabbi Shlomo Carlebach.
As the first then-Orthodox woman of her generation to perform for a mixed-gender audience, Neshama has sparked public conversations with brave forays into the place of women in Judaism and today's world. Neshamalives in New York with her husband Rabbi Menachem Creditor, and their five children.
Texas-born and southern raised, Joe Buchanan makes country music that is steeped in Torah and the trials of the human spirit. He grew up struggling with religion and his place in the world until one day outside of the Holocaust Museum in Washington D.C., and 13 years into their marriage, his wife revealed that she was Jewish. An exploration of faith led the way home for the whole family and kicked off a whirlwind of songwriting, ultimately leading to Joe's debut album, Unbroken.
Since his conversion, he's toured the country leading services, concerts, and workshops. Now, Joe's goal is to help drive connection to what connects us all and to hold the door for other seekers. His latest release is Back From Babylon and his website is www.joebuchananmusic.com
Soulfarm was founded in Israel by Grammy Award winner lead guitarist C Lanzbom and guitarist and lead singer Noah Solomon Chase. Their sound has been dubbed as New American music, full melodic songwriting, and progressive modern arrangements. Together with Ben Antelis and Daniel Ori, their live shows are full of Mediterranean flavor with captivating guitar leads, dance rhythms, and strong percussion breaks. The New York Post quotes Soulfarm as "versatile, utilizing improvisation and world music."