Upcoming Programs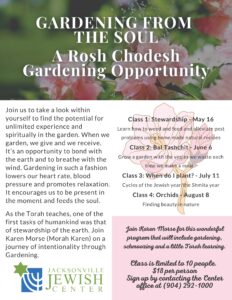 Join us to take a look within yourself to find the potential for unlimited experience and spiritually in the garden. When we
garden, we give and we receive. It's an opportunity to bond with the earth and to breathe with the wind. Gardening in such a fashion lowers our heart rate, blood pressure and promotes relaxation. It encourages us to be present in the moment and feeds the soul. As the Torah teaches, one of the first tasks of humankind was that of stewardship of the earth. Join  Karen Morse (Morah Karen) on a journey of intentionality through Gardening.
Class 1: Stewardship – May 16
Learn how to weed and feed and alleviate pest
problems using home made natural recipes
Class 2: Bal Tashchit – June 6
Grow a garden with the veggies we waste each
time we make a meal
Class 3: When do I plant? – July 11
Cycles of the Jewish year/the Shmita year
Class 4: Orchids – August 8
Finding beauty in nature
Join Karen Morse for this wonderful program that will include gardening, schmoozing and a little Torah learning.
Class is limited to 10 people.
$18 per person
Sign up by contacting the Center office at (904) 292-1000