Selihot Night Live 5781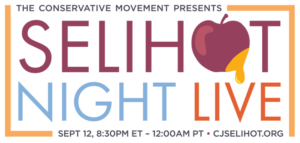 Saturday, September 12, 2020
8:30 PM Eastern through 12:00 AM Pacific
The Conservative Movement comes together to learn, sing, and connect as a community. Over 60 rabbis and cantors will present, and a variety of Selihot services will be offered throughout the evening. We will usher in the High Holiday season focusing on:
• Teshuva (Repentance: If I Am Not For Myself, Who Is For Me?)
• Tefilah (Prayer: And If I Am Only For Myself, What Am I?)
• Tzedakah (Righteous Acts: And If Not Now, When?)
• Shema Koleinu (Hear our Voice, Accept our Prayer)
This event is sponsored by the Conservative Movement High Holiday Task Force, a partnership among the Cantors Assembly, Jewish Educators Assembly, North American Association of Synagogue Executives, Rabbinical Assembly, and the United Synagogue of Conservative Judaism.
Join Rabbi Jonathan Lubliner for his session at 11:00 pm
"DID MY FATHER KILL ME?" WHAT ISAAC SAW
Akedat Yitzchak (the Binding of Isaac) is one of the most terse narratives in the entire Torah; its sparing prose points to hidden depths of emotion that classic and contemporary midrash struggle to reveal. Using the improvisational technique of bibliodrama we will visit Isaac's memories of the Akedah in the first person as we explore the intersection of trauma, healing, fragility, forgiveness, and resilience in one son's relationship with his father and God.
How to participate in this very special event:
In order to prevent any disruption or harassment on Zoom, every individual who would like to participate in Selihot Night Live must register. We have 3 Zoom rooms and 2 YouTube channels – all at the same time. The Zoom rooms will have a large capacity but at times might be full, in which case, the YouTube channels will always be available.
Every individual who registers will receive an email on Friday, September 11, with an up-to-date schedule and links for our 3 Zoom rooms AND our 2 live stream YouTube channels, as well as links to text sheets and services.   Registration will close on Thursday, September 10. After that time, those who have not registered will be able to watch a portion of the programming on our YouTube channels. For safety and security reasons, we ask that no one share the links.
If you have any questions, please contact Cantor Hinda Labovitz or Rabbi Ilana Garber.